Public Adjusters for Tornado or Other Windstorm Damage
Strong, heavy winds and tornadoes can cause considerable widespread damage to even the most well-constructed buildings. Globe Midwest public adjusters can become your professional advocates to assess your property damage, prepare your insurance claim, and negotiate with your insurance company to get you what you need to recover.
This may be your first and only time filing a claim. Meanwhile, your insurance company has a whole team of experts whose full-time job is to assess property damage claims to protect their interests. Is it an even match? Who's looking out for you?
If your commercial property is damaged by a tornado or windstorm, you may not be able to see the damage with the naked eye. This could be a cracked foundation or a loosened roof. How will you know if your property is safe? The first step is to engage a licensed engineer to determine if any structural deficiencies like these have occurred. If the damage is identified, our licensed public adjusters can step in to identify and document not just the obvious harm caused by high winds, but the more subtle hail and other related damages to produce a complete picture of your total loss.
From the initial appraisal to the final negotiations, our Globe Midwest public adjusters help you and your business secure a full and fair settlement.
For nearly a century, we have been helping policyholders in Michigan, Illinois, Wisconsin, Minnesota, Indiana, and throughout the Midwest achieve a full financial recovery after experiencing tornado and wind damage. As your trusted advocates, we make sure you get what you need to rebuild your property and business.
The Globe Midwest Offices
What To Focus On After Tornado or Other Windstorm Damage
Make sure you fully understand the meaning of each of the following before you move forward. Feel free to reach out to us for a no-cost discussion about your claim.
What is my agent/broker's role? Will his/her role be active or passive? When faced with supporting your position or the insurance company's, where will he/she stand?

The insurance company hired a construction estimator. What do I need to know?

Wind Damage vs. Storm Surge vs. Flood. What is covered?

Why is a claim strategy so important?

Am I impacted by coinsurance?

Forensic Deconstruction may be required in order to determine the possible structural damages caused by pressure vs. suction and differential pressure. (Wind flow on two opposite sides of any building components such as roofs, walls, structural members, etc., which could deform or dislodge materials).

Is there coinsurance in your policy? Properly managing coinsurance requirements can prevent financial disaster. Not properly managing coinsurance requirements can put you out of business! If there is, what does it mean? If there is, did your insurance adjuster explain it? How is coinsurance calculated: on replacement cost or actual cash value?


Is there a methodology to properly document the loss?

Is a moisture survey necessary? Why or why not?

When mold is an issue, be sure to hire professionals to record RH%, document the damage, and create a moisture map before removing ALL wet building materials.

Prompt inspection and documentation is key to a successful claim. It takes a trained professional to identify and document windstorm damage. Do you have the right expert lined up? You should not just rely on the insurance company's experts.

The report from the roofing expert you choose can make all the difference in your recovery.

Repair vs. replacement of roofing can be a very challenging issue. Are you familiar with matching issues/rules? Are you familiar with patching issues/rules? What about warranties?

Wind driven rain vs. leakage. The difference can affect your recovery.

What happens following an extraordinary storm when drying equipment, generators, remediation labor, and other resources are unavailable for days? Weeks?
Property Damage Losses Commercial Claims Recovery Process
Property Damage
Time Element
Life & Safety Issues
Mitigation of Damages
Establish A Preliminary Recovery Plan
Evaluation of Coverages
Valuation Of Damages, Claim Preparation, and Documentation
Negotiations & Settlement
Restoration Of Property & Operations
How Globe Midwest Helps You
Evaluate

Fully reviewing your insurance coverage.

Strategy

Developing a claim management strategy.

Compliance

Determining policy compliance issues.

Valuations

Completing detailed valuations of building, equipment and inventory losses.

Interruption

Formulating business interruption models.

Itemization

Presenting and supporting an itemized claim package to your insurer.

Negotiation

Negotiating on your behalf with your insurance company.

Communication

Keeping you informed every step of the way.

Settlement

Ultimately settling the claim for the maximum amount and with less hassle for you.
Industries Globe Midwest Public Adjusters Have Helped
Client References & Testimonials

Client References

Clintex Laboratories, Inc. - Chicago, IL

Dick Rayl & Associates - Kokomo, IN

Highland Park Schools - Highland Park, MI

Testimonials

Months after the storm passed, the County was still faced with tremendous burdens related to the insurance coverage issues and FEMA and MEMA eligibility issues. Jackson County hired Adjusters International to provide professional services for disaster assistance, remediation, restoration and recovery efforts....Their expertise with governmental regulations, the complex FEMA process and insurance adjustments resulted in our successful claim for over $2 million in additional FEMA Public Assistance funding specifically; in our successful negotiations with our insurance carrier; and in numerous other increases in the values FEMA and MEMA initially designated for County projects. Jackson County will always be mindful of the help we received from Adjusters International when we needed it most.

Alan K. Sudduth

County Administrator - Board of Supervisors, Jackson County, Mississippi

When I experienced a fire in my home, I immediately contacted your insurance company. You both worked and fought very hard to insure that I had received all the monies due to me under my insurance policy and also made sure that my house got put back together, right... I would highly recommend your services... Your service, professionalism and dedication to my claim were more than I could ask for.

Alice Fish

Homeowner, Grand Rapids, MI

Case Studies

For decades, L'Auberge Chez François has been one of the leading restaurants in the metro Washington, D.C., area. Known for its exceptional French cuisine and impressive service, the restaurant is a longtime favorite of Washingtonians celebrating anniversaries, birthdays or other special occasions.

A magnitude 6.8 earthquake, called Nisqually in seismic circles, rocked Seattle, Washington, in 2001 and severely damaged the Starbucks corporate headquarters building.

Super Typhoon Paka, as the storm came to be called, was a 12-hour session of destruction for the island of Guam. Stirring up winds in excess of 200 miles per hour, the tropical cyclone tossed buildings, planes and ships across the island like discarded toys. Among these was the headquarters of Continental Micronesia, a subsidiary of Continental Airlines. The main offices, the marketing buildings and the planes were damaged by the powerful typhoon.
Understanding your insurance policy before a disaster strikes is essential to protecting your organization and ensuring a fast recovery. Having contingency plans established in advance will help you ...
Understanding Business Income Coverage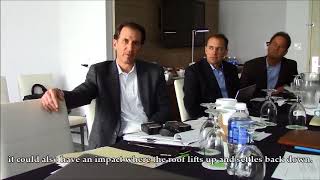 Carl Gross, VP and CAO of Globe Midwest/Adjusters International gives business owners some tips on how to handle tornado insurance claims
Contact Us
If you're suffering from a commercial property claim, we can help!
( * ) indicates required field