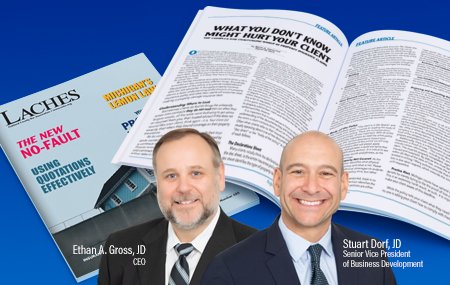 The Complex and Challenging World of Property Insurance Claims
by Ethan A. Gross and Stuart M. Dorf
As Featured In Laches: Oakland County Bar Journal! - August 2019
One of the goals as a legal professional is to be "more" to our clients: more than a zealous litigator, a contracts wordsmith or a skilled negotiator. And somewhere during the course of representing your client, you do become more to your client, especially as he or she starts to view you as a trusted advisor - someone they can turn to in their times of need regardless of whether it is in your area of expertise!
While trusted advisors cannot be experts at everything, it is important they do have a working knowledge of certain events that are likely to present issues in the lives of their clients. The world of property insurance claims is one such field. Whether your clients own a home, commercial property or both, it is likely they have an insurance policy to cover their risk.
But having insurance and using insurance (when a claim is made) are two completely different things. Accordingly, the purpose of this article is to provide trusted advisors who do not specialize in first-party property insurance claims a basic understanding of the structure of a property insurance policy and what their clients will encounter when making a property damage insurance claim.
Understanding Where to Look
Sometimes clients do foolish things like unilaterally enter into contracts they do not read that can affect their largest assets, all the while never bothering to get advice or counsel from you, their trusted advisor! If this does not sound like your client, think again - it is. Your client did exactly that when they bound coverage on their property insurance.
At its core, an insured's relationship with their insurance carrier is contractual in nature and is governed by a contract more popularly known as an insurance policy. Please remember, an insurance contract is not just any old contract - it is unique, as it is an adhesion contract, so either take it or leave it.
Since many clients do not have the option of leaving it - i.e., forgoing insurance - they enter into these contracts blindly. The fact is most insureds have never read their insurance policy, so they are completely unaware of their rights and responsibilities. Which is not to say that reading the policy is a tremendous help. The typical property insurance policy is very confusing, as it is riddled with provisions that provide coverage in one section, take it away in another, give it back in yet another section, etc. Most insureds tend to assume they are fully covered so they do not bother with a thorough review of their policy. But "fully covered" is a myth. No insurance policy exists that covers everything.
From a trusted advisor's perspective, general principles found in common law and even case law regarding liability and damages (in regard to torts) as well as standard contractual issues, for the most part, do not apply. Rather, all the rules of the game of making an insurance claim - all the requirements, obligations, timeframes, even methods of dispute resolution are for the most part contained within the provisions of the policy. Regardless of whether this is fair or equitable, it is critical to understand the rules of the game and how to comply with them for your client to properly submit their claim and receive the fair and just settlement they deserve.
It is important that trusted advisors have a very basic understanding of the documents they are looking at in the event a client contacts them about an insurance claim. Often when clients refer to their insurance policy, they are usually speaking about one of two documents: either the "dec sheet" or the "body of the policy" A quick overview of each follows.
The Declarations Sheet
Many clients initially think the declaration page, aka the dec sheet, is the entire insurance policy. It is not. The dec sheet identifies the type of property being insured, coverage limits and deductible amounts. Dec sheets also identify additional types of coverage that may not appear in the body of the policy but are offered through an endorsement. The dec sheet does not provide the details
of coverage; those details are contained in the body of the policy and all related forms and endorsements.
The policy divides coverages into three primary categories. There also are numerous other coverages throughout the policy, but the three primary coverages are building, contents and time element:
Building — This category covers the physical structure including items permanently affixed to the structure. In residential policies this coverage is often listed as "Coverage A-Dwelling." In commercial policies, it is typically referred to simply as "Building."
Contents — This covers all items that are not attached to the building/dwelling. As we like to say, "If you take the building, flip it over and shake it, everything that falls out is "contents." In residential policies this is referred to as "Coverage C-Personal Property"; in commercial policies it is referred to as "Business Personal Property."
Time Element Losses — This category provides coverage for additional expenses and/or loss of income suffered by an insured. In residential policies this is referred to as "Coverage D-Loss of Use" or "Additional Living Expenses" and covers the additional cost incurred if a homeowner is forced to live in a temporary accommodation following a covered loss. In commercial policies the time-related coverages are referred to as "Loss of Income" and "Extra Expense." In general, these cover the lost profits as well as other expenses incurred to attempt to maintain operations or minimize lost profits after a covered loss has occurred.
The Body of the Policy
As the old adage goes, "The devil is in the details" and this is especially true when it comes to reading the body of your client's insurance policy. There are numerous provisions in insurance policies; all are important. With all of the fine print it is extremely important to read the entire policy to understand how the various provisions impact your client's coverage. For purposes of this article we will only address a few key provisions that will always apply.
Definitions. Words and phrases in bold are terms that will be defined in the definitions section. It is critical to see how the policy defines these words and phrases, as the definition impacts the coverage.
Covered Property/Property Not Covered. As the headings indicate, this section identifies what physical property is covered by the policy and what is not. Please note, many policies have additional coverages via endorsement that are not subject to the policy limit, but rather have their own sub-limit.
Covered Causes of Loss. As mentioned, there is no such thing as "fully covered." This section identifies the types of risks that are covered. Most policies are either "open perils" aka "all risk," or "named perils." An open perils policy covers everything that causes physical damage to covered property - except the numerous perils that are excluded or limited elsewhere in the policy. A named perils policy only covers damage caused by the specific perils listed in the policy, such as fire, lightning, wind, etc.
Exclusions and Limitations. Where the insurance policy grants coverage in one section, they "taketh away" in another; the exclusions and limitations sections are where coverage is minimized / limited. These must be looked at closely, as there are often exceptions built into the exclusion or limitation that may actually allow for coverage in certain circumstances.
Loss Conditions/Additional Conditions. This section contains miscellaneous conditions and requirements of the insured. These conditions address everything from the insured's duties to the rights of others.
Preparing and Presenting the Insurance Claim
There is a misconception held by most clients that all they have to do to get compensated for a property damage loss is pay their premium. Well, nothing could be further from the truth! Paying an insurance premium is the first step - not the only step - your client must take in order to receive a full and just settlement. Remember, your client already agreed to a number of affirmative obligations when they bought their insurance that only "spring to life" once a claim is made. These duties are usually found in the loss conditions subsection titled "Duties in the Event of Loss of Damage."
Failure to comply with any or all of these duties may result in a denial of the claim. These duties include, among other things, providing prompt notice of the loss, protecting the subject property from further damage as well as the "duty to cooperate," and providing any and all financial, tax, utility or other documents requested by the insurance company in a timely fashion. The most cumbersome and difficult of the obligations placed on your client is their duty to prepare and present their claim to the insurance company.
Additionally, there is a requirement to submit a "Sworn Statement in Proof of Loss." This critical document must include certain information, including the amount of the claim. This must be properly completed, signed by the insured and notarized. By statute this must be submitted within 60 days of the date of loss, unless the time is extended in writing. Many policies provide that the proof of
loss is due upon request, which extends the time for filing until requested.
Practice Alert: Michigan courts have upheld claim denials for merely failing to file the proof of loss on time. This is an extremely harsh result; as such, it is important to make your client aware of this deadline. While the policy tells your client what they need to do, no one is telling your client how to comply with these obligations. For example, "damages" in the world of property insurance are documented using means and methods unique to the insurance industry that are very different from the real world or what our clients would consider common sense. Failing to be aware of how to work within these standard industry practices can be devastating to an insured's recovery.
For instance, in determining loss of income, the insurance policy sets forth a very specific formula for calculating a loss of income claim. A CPA unfamiliar with the formula and related rules may prepare a calculation that seems logical, but when reviewed based on the terms of the policy, may in fact be too high or too low and end up being rejected by the insurance carrier.
The same concepts hold true for building and contents claims. In identifying the amount of loss and damage to repair a building following a fire or other event there are means and methods used in the in