Globe Midwest/Adjusters International featured in DBusiness, Detroit's Premier Business Journal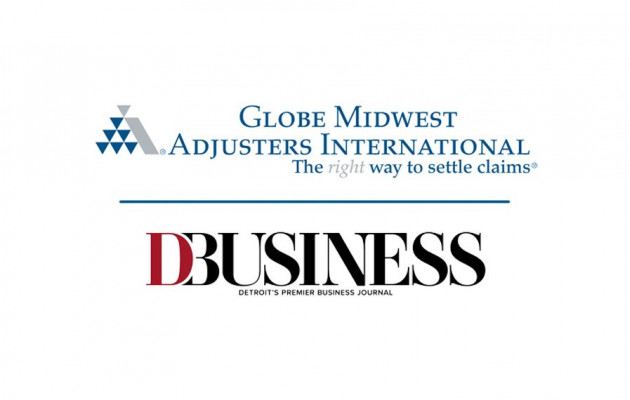 Globe Midwest/Adjusters International was recently featured in DBusiness magazine, Detroit's premier business journal. Below is an excerpt from DBusiness.
Last June, massive flooding rocked the city of Detroit and nearby communities causing major damage to thousands of homes and businesses that are still recovering. One of the most prominent Detroit landmarks to be affected by that "100-year" rain event was the historic Fisher Building.
The flooding resulted in a 10-day power outage at the Fisher Building. There was about five feet of water in the basement, and the entire electrical system and elevators were impacted.
"I remember putting on boots and traipsing around the basement," says Peter Cummings, chairman and CEO of The Platform, a real estate development company dedicated to helping rebuild the city of Detroit. "And it was a mess. I had never seen anything quite like that. Basically, everything on those lower levels of the Fisher Building had to be rebuilt."
Cummings says his heart sank as soon as he saw the extent of the damage. As the son-in-law of Max Fisher, the Fisher Building is a significant part of his and his family's lives and history.
"My late father-in-law owned the building in the 1970s and, until his death in 2005, we maintained a family office on the 27th floor," Cummings says. "I bought the building in 2015 with a few partners. It's an important asset in terms of the historical involvement of our family. It's not just any building. With its architecture and visibility, it's probably Detroit's most iconic building."
That's why the long-time developer brought in Southfield's Globe Midwest Adjusters International who he had previously worked with on another property damage claim.
For example, after the flood, the elevators in the Fisher Building continued to be operational but the Globe Midwest team found that, because the cabling was exposed to humidity for an extended amount of time, the life expectancy of those parts had been shortened.
"It's the obligation of the insurance carrier to enable us to return the system to the condition it was in before the flood," Cummings recalls. "Globe Midwest really peeled back the onion to find out the entirety of the damage and what we were owed."
Globe Midwest Adjusters Chairman and President Bobby Levin says the Fisher Building claim was unique because of the intricacy of the electrical system — with some equipment up to 90 years old — and the structure of the building with small rooms and tunnels making it difficult to access. Since the Fisher Building was constructed in the 1920s, there were a lot of historical aspects the team also had to take into consideration.
"We came across a lot of potentially antique building elements that needed to be identified for their historical value," Levin says. "One example were door knobs and hardware we found to be antiques. We have to take things on a case-by-case basis because, for some buildings, a doorknob is just a doorknob. But that wasn't the case at the Fisher Building. So, we brought in the right consultants, and we were able to demonstrate to the insurance company just how much the doorknobs were worth."